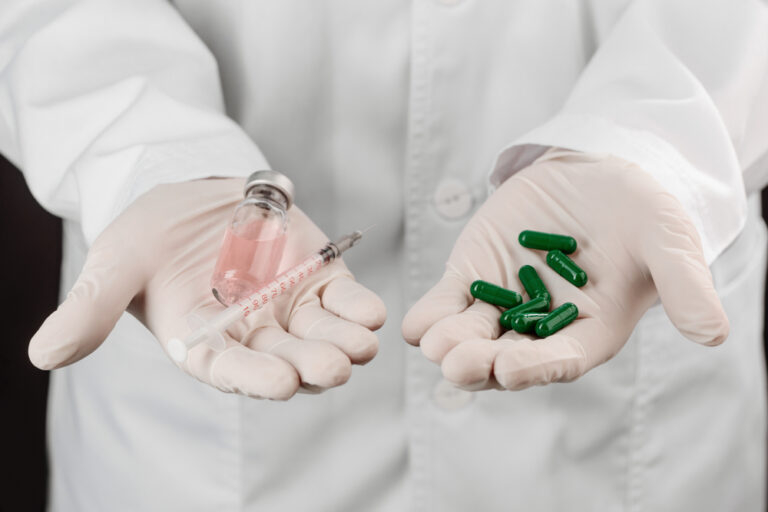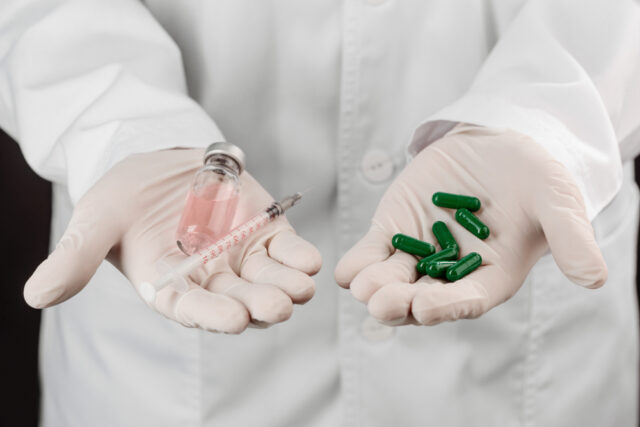 SynAct kommenterar positiva fas II-data
SynAct Pharma släppte igår preliminära data från sin fas II-studie med läkemedelskandidaten AP1189 hos patienter med reumatoid artrit. Dessa blindade data indikerar att AP1189, administrerat i doser om 50 mg, är säkert och väl tolererat. Granskningen av data indikerar också en betydande reducering av sjukdomens svårighetsgrad hos två tredjedelar av patienterna, en reducering som potentiellt kan tillskrivas AP1189. BioStock kontaktade företagets VD Jeppe Øvlesen för en kommentar om de positiva indikativa resultaten.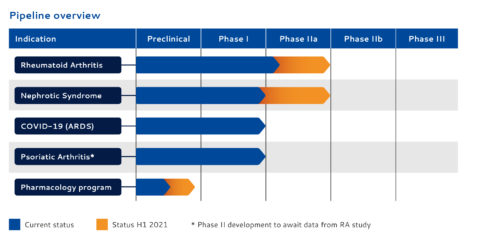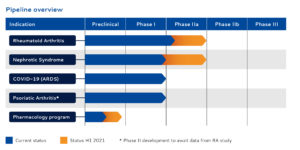 SynAct Pharmas ledande läkemedelskandidat AP1189 är en First-in-Class melanocortinreceptoragonist, riktad mot aktiva inflammatoriska och autoimmuna sjukdomar. De primära indikationerna för AP1189 är aktiv reumatoid artrit (RA) och nefrotiskt syndrom (NS), men nyligen adderade det danska bioteknikbolaget AP1189 som tilläggsterapi hos inlagda patienter med COVID-19-infektion för att förebygga ARDS, till sin pipeline. Detta givet den gemensamma nämnaren i alla tre indikationerna; ett okontrollerbart inflammatoriskt svar.
Baserat på det kroppsegna hormonet melanocortin
SynAct Pharmas forskningsplattform baseras på det kroppsegna hormonet melanocortin, som aktiveras vid inflammatoriska tillstånd och bidrar till antiinflammatoriska effekter som är avgörande för läkningsprocessen och återhämtning till normal vävnadsfunktion.
Behandlingskonceptet bygger på att stärka immunsystemets läkande mekanismer genom att aktivera kroppens egna immunceller, så kallad resolutionsterapi. Genom att aktivera kroppens immunceller skiljer sig SynAct Pharmas koncept från biologiska och immunsuppressiva läkemedel, som istället verkar genom att hämma immunsystemet.
Rheumatoid arthritis (RA)
Reumatoid artrit (RA) är en kronisk inflammatorisk sjukdom där immunsystemet felaktigt attackerar kroppens friska celler, vilket orsakar inflammation och smärtsam svullnad i de drabbade kroppsdelarna. RA påverkar inte bara lederna i händer, handleder och knän, utan också organ som hud, ögon, lungor, hjärta och blodkärl. Vävnadsskadorna kan orsaka långvarig eller kronisk smärta, dålig balans och deformiteter. Således är sjukdomen förknippad med en progressiv funktionsnedsättning, för tidig död och därmed också en socioekonomisk börda.
Nya typer av mediciner har visserligen förbättrat behandlingsalternativen dramatiskt, men allvarlig RA kan fortfarande orsaka fysiska funktionshinder. Det är i detta medicinska vacuum som SynAct Pharma vill positionera sin primära läkemedelskandidat AP1189, med potential att förbättra sjukdomstillståndet utan att samtidigt undertrycka immunförsvaret och därmed öka risken för infektioner, såväl i RA som i andra inflammatoriska och autoimmuna sjukdomar.
Skall ges som en tidig tilläggsbehandling i RA
I den pågående RA-studien doseras AP1189 eller placebo en gång dagligen i tidigare Methotrexat (MTX)-naiva patienter (ej tidigare behandlade). Methotrexat är en form av immunsystemdämpande cytostatika, och tillika ett av de mest effektiva läkemedlen för behandling av RA på marknaden.



MTX ger dock ett otillräckligt svar hos cirka 40% av patienterna, medan nästa behandlingsalternativ är mer effektiva, men ofta leder till allvarliga biverkningar. Även med dyra injicerbara biologiska läkemedel svarar upp till 30% otillfredsställande på dessa behandlingar.
SynAct Pharmas strategi är att positionera AP1189 här som en tidig tilläggsbehandling som kan minska behovet av sekundära behandlingsalternativ och/eller minska dosnivån för MTX.
Nya fas II data i RA
Igår meddelade SynAct Pharma att den första av två testade doser (50 mg) med AP1189 hos tidiga RA-patienter med aktiv ledsjukdom var säker och väl tolererad, baserat på en blindad granskning av data från bolagets pågående placebokontrollerade fas II-studie, som hittills har doserat 12 patienter i Danmark och Sverige.
Resultaten visar också en femtioprocentig reducering av sjukdomens svårighetsgrad hos 8 av de 12 testade patienterna. Eftersom granskningen av data var blindad, i syfte att undvika att införa bias i analysen, är det emellertid än så länge inte helt klarlagt om reduceringen av sjukdomens svårighetsgrad kan tillskrivas AP1189 eller ej.
Baserat på dessa resultat från den dubbelblinda studien som mätte säkerhet, tolerabilitet och effekt av AP1189, har bolaget beslutat att gå vidare till nästa dosnivå (100 mg) i del 1 av studien, och att inkludera 50 mg dosnivå i del 2 av studien. Detta kommer senare att avgöra om 100 mg är säkert och tolererbart och om dosen skall inkluderas i del 2.
BioStock kontaktade SynAct Pharmas vd Jeppe Øvlesen för en kommentar om de nya data som har publicerats rörande bolagets fas II-studie i RA.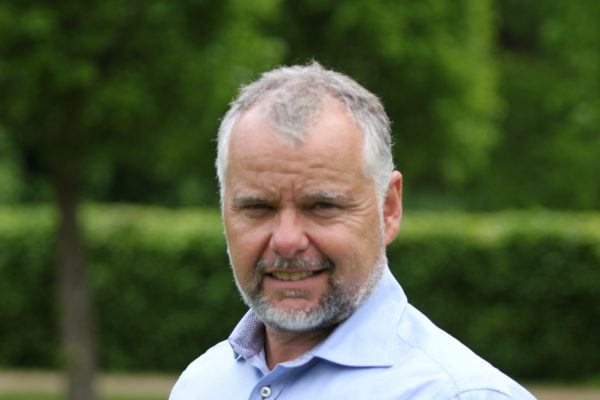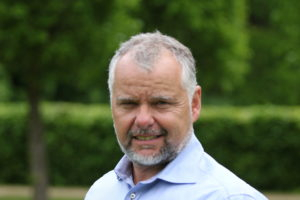 Jeppe Øvlesen, to begin with, the preliminary results based on the blinded data, show that administration of AP1189 seems to be safe and well-tolerated. Thus, you have achieved an important milestone in your RA project. What significance does this have for the future development of the candidate?

– For us, it is extremely encouraging to see that, according to the data, the treatment setup and the dose of the compound given to patients is safe. The interpretation on the blinded data on efficacy further support that we should continue dosing at this level in the second part of study.
– In the short-term this means that we can focus on getting a safety profile on the next dose level of 100 mg and, if this dose, which was very well-tolerated in our Phase I study, turns out to be safe in the patients as well, we can continue in the second part of the study with two doses of active compound vs placebo. That gives us a great opportunity to show efficacy and thereby confirm the potential of AP1189 as new treatment option in rheumatoid arthritis.
Going into the numbers, after a 4 week treatment period, a group of 8 patients showed a reduced clinical disease activity index (CDAI) score compared to pre-treatment levels with a median reduction of 50%, and a group of 4 patients with a worsening in their clinical status, where the median CDAI score was increased by 10%. The numbers – considering that it is the common understanding that it takes several weeks before MTX induces improvement in symptoms – sound indicative of a substantial clinical improvement, is that how you would interpret them?

– I have to emphasize that the data is blinded, the sample size is small and there could placebo treated among the subjects where we have identified a fall in clinical disease score. Saying that there is as we highlight in the PR patients that goes from high disease activity to low disease activity within the study period. Such reductions in disease activity are very seldom seen following 4 weeks treatment with MTX as monotherapy. However, we cannot exclude an extraordinary placebo effect. We have to wait to make any conclusions until we have the planned patients enrolled and unblind the data.
Considering the review of the data was blinded, it cannot be ruled out that there are placebo-treated patients among those showing clinical improvement. How does this caveat play into choosing the next dose level?

– The decision to go to the next dose level is based on the safety review not on blinded review of potential efficacy. We could have had a setting where most of the patients still had high disease activity at the end of the treatment period – which the data shows us we are not.
You plan to position AP1189 as an additional treatment given early to patients with RA, in combination with methotrexate (MTX). What reactions and support have you received from major pharmaceutical companies and researchers when presenting this new combination strategy?

– The setup is in many ways ambitious as we go in early  start dosing in parallel with methotrexate in patients with high disease activity. In these patients the physician often turns to intraarticular injections of glucocorticoids to induce pain relief in parallel with up-titration of methotrexate as the onset of clinical effect of methotrexate is slow. If the treatment profile of AP1189 in combination with Methotrexate turns out to be effective it could reduce the need for glucocorticoid injections and potentially reduce the need for second-line treatments like biologics or JAK inhibitors.
– If that turns out to be the case, the physicians would find AP1189 as a very attractive opportunity, also because the compound seems not to induce immunosuppression. The pharma industry would likewise see a big opportunity in such a scenario – where it would also serve as part of proof of our "resolution therapy treatment".
In the press release yesterday, you state that it is unlikely that all patients in the planned 100 mg cohort in part 1 of the study will be registered, dosed and reported during the second quarter of 2020. This seems to have made the market somewhat ambivalent when looking at the relatively small increase in the share price. Would you like to comment on how your chances of success are affected by the Covid-19 outbreak?

– The Covid-19 outbreak has, until further put the recruitment in Sweden and Norway on hold. In Denmark recruitment continued but at a lower recruitment rate.  However, we now slowly see that the countries get better control with the corona situation and we hope we will get back to a more normal situation. This will help us in getting the recruitment rate up again and making it possible to get the patients for both the first and the second part of the study enrolled.
Finally, what milestones can we look forward to during the rest of the year?

– We still have the ambition for significant progress in the RA study. We expect to get the study in nephrotic syndrome up and running and then we have the opportunity in Covid-19 where we are working on the protocol and where we have had very good progress with the investigators.
Innehållet i Biostocks nyheter och analyser är oberoende men Biostocks verksamhet är i viss mån finansierad av bolag i branschen. Detta inlägg avser ett bolag som BioStock erhållit finansiering från.
Prenumerera på BioStocks nyhetsbrev