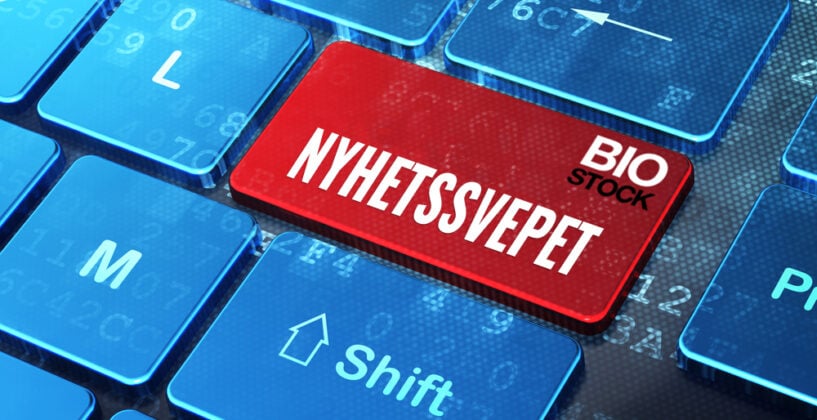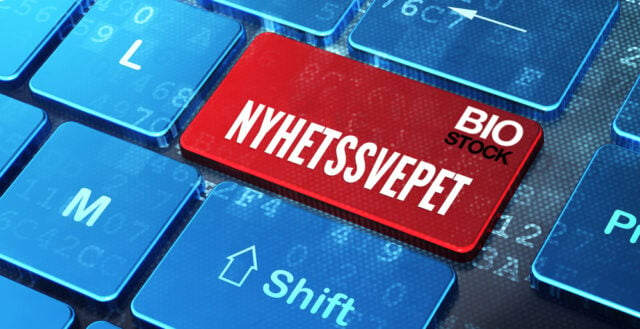 Nyhetssvepet onsdag 6 maj
Ett redaktionellt urval av dagens Life Science-nyheter
De senaste artiklarna från BioStock
»  SynAct kommenterar positiva fas II-data
»  CEO Saniona: »The real growth will come from our proprietary projects«
»  Enzymatica dubblar intäkterna i Q1
»  Interimsdata från Alligator på AACR satte fart på aktien
»  Full pott i Q1 för Redsense Medical
»  Sprint Bioscience uppmärksammas i välrenommerad vetenskaplig tidsskrift
Läs BioStocks senaste nyhetsbrev för vecka 18 här.
I söndagens nyhetsbrev var länken till BioStocks artikel om Enzymaticas nya CE-utmärkelse som klass III medicinteknisk produkt tyvärr felaktig, den rätta länken återfinns här.
Immunicum har erhållit Regenerative Medicine Advanced Therapy Designation från FDA för Ilixadencel i njurcancer. Läs mer.
FDA har beviljat Medivirs MIV-818 status som särläkemedel för behandling av hepatocellulär cancer. Läs mer.
Oncopeptides har genomfört en riktad nyemission om cirka 1 414 Mkr. Läs mer.
Klaria har meddelat beslut om tilldelning i den riktade nyemissionen av aktier. Läs mer.
Galectos patientrekrytering i fas IIb-studien med GB0139 i idiopatisk lungfibros avancerar enligt plan trots Covid-19-krisen. Läs mer.
Xbrane och STADA har träffat partnerskapsavtal med Bausch + Lomb för kommersialisering av Xlucane i USA och Kanada. Läs mer.
MRP-processen för Enorama Pharmas nikotintuggummi är avslutad och samtliga länder där ansökan skickats in är överens om att produkten uppfyller alla krav för godkännande. Läs mer.
Bavarian Nordic har gått med i AdaptVacs Covid-19-vaccinprogram. Läs mer.
AstraZenecas Farxiga har godkänts i USA för behandling av patienter med hjärtsvikt och nedsatt ejektionsfraktion. Läs mer.
Brighter har tillförts 9,2 Mkr genom nyttjande av teckningsoptioner. Läs mer.
Första deltagaren har blivit rekryterad till Ascelia Pharmas kliniska studie med Mangoral för nedsatt leverfunktion. Läs mer.
OssDsign har utsett Eric Patermo till VP of Sales för OssDsign USA, Inc för att driva fortsatt tillväxt på bolagets största marknad. Läs mer.
Targovax har annonserat att ett abstrakt om interimsdata från deras fas I/II-studie inom bukhinnesjukdomar har blivit antaget för presentation på ASCO 29-31 maj. Läs mer.
Realheart aviserar att de inleder ett Vinnova-finansierat projekt (läs mer) och förstärker organisationen med Martin Cook, en erfaren medtechkonsult. Läs mer. Bolaget avser även att etablera nya samarbeten. Läs mer.
Biovica påminner om sin till virtuella kapitalmarknadsdag den 11 maj. Läs mer.
Redeye har inlett bevakning av QuiaPEG. Läs mer.
Rapporter:
ALK  BiBBInstruments  Boule Diagnostics  C-RAD  Genovis  Invent Medic  NattoPharma  Novo Nordisk  PCI Biotech  Saniona
Kommunikéer:
Alligator Bioscience  Asarina Pharma  Enzymatica  Invent Medic  Isofol (extra)  Medivir
Kallelser till bolagsstämmor:
Emotra  MedicPen  SpectraCure (extra)  WntResearch
Årsredovisningar:
Camanio Care (komplettering)  PExA  Promore Pharma
Nyheter inkomna sedan igår:
SpectraCure ska genomföra en företrädesemission av units om cirka 140 Mkr före emissionskostnader i syfte att bland annat bedriva fas III-studier för fortsatt framgångsrik utveckling. Läs mer.
WntResearchs presentation på Aktiespararnas digitala arrangemang 4 maj är nu tillgänglig. Läs mer.
Novo Nordisk har redovisat transaktioner i aktieåterköpsprogrammet. Läs mer.
Vistin Pharma har korrigerat meddelande om kontantutdelningen. Läs mer.
CFO i Medistim, Thomas Jakobsen, har sålt aktier. Läs mer.
Penser Access har publicerat en analys av Redsense Medical: "Svarta siffror i Q1'20". Läs mer.
Förmiddagens vinnare: Enorama 23,6%, Xbrane 14,9%, SciBase 14,8%, Immunicum 13,5%, Phase Holographic Imaging 13%
Förmiddagens förlorare: Nexstim -14,1%, EURIS -12,8%, BiBBInstruments -7%, Biovica -6,3%, Monivent -6%
Index: OMXS30 1527 -0,72% Hälsovård +0,91%
Fler artiklar från BioStock
»  The Applications of AI in life science
»  2cureX och samarbetspartners får 1 MEUR för automatisering av IndiTreat
»  Karolinska Development: Börsoro påverkade värdet under Q1
»  Fluicell – pionjärer inom encellsteknologi
»  What is AI?
Prenumerera på BioStocks nyhetsbrev