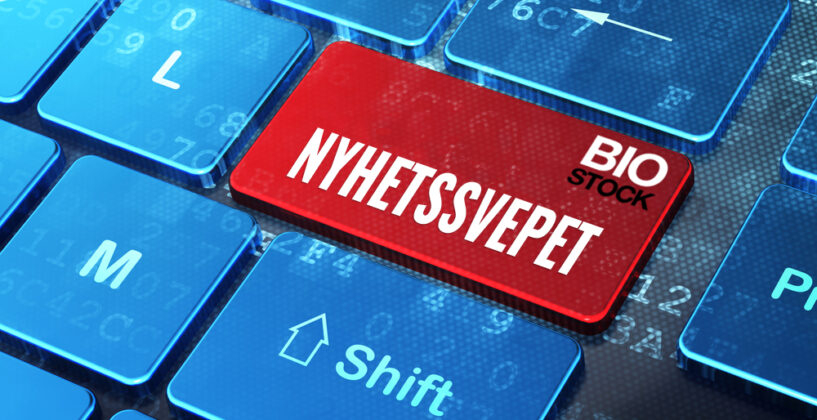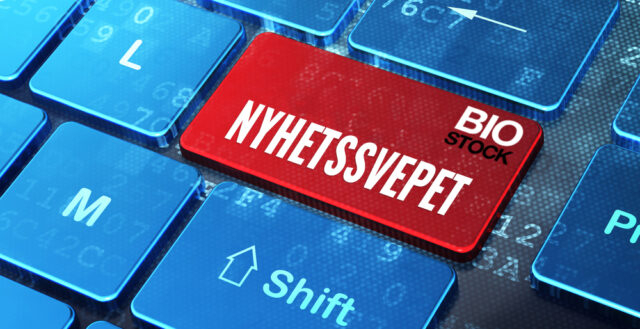 Nyhetssvepet tisdag 17 december
Ett redaktionellt urval av dagens Life Science-nyheter
De senaste artiklarna från BioStock
»  Dubbla tummar upp för Follicum
»  Scandion Oncology comments on the technical delay with SOM-101
»  Xintelas dotterbolag nådde milstolpe i cancerprojekt
»  Oncology Venture advancing in all priority programs
»  Idogen patentsöker ny metod för cellterapi efter robusta data
»  2cureX presenterar IndiTreat vid ESMO-kongressen
Läs BioStocks senaste nyhetsbrev för vecka 50 här.
Follicum rapporterar positiva, humana ex vivo-data från prekliniska diabetesstudier med ny klass av FOL-peptider. Läs mer. Bolaget har även erhållit ett godkänt patent i USA för stimulering av hårväxt med FOL-005. Läs mer.
Recipharm ingår avtal med Aptahem för formulering av läkemedelskandidaten Apta-1. Läs mer.
SenzaGen sluter distributörsavtal med GenEvolutioN i Frankrike. Läs mer.
Aino Healths partner Finla träffar avtal med två nya kunder till bolagets HealthManager-plattform. Läs mer.
Sista dag för handel i BTA i PExA kommer att vara den 20 december. Läs mer.
Scandinavian Realheart ställer ut på Tekniska museet i Stockholm. Läs mer.
Rapporter/kommunikéer
C-RAD
Nyheter inkomna sedan igår e.m:
Roche har fått godkänt av myndigheterna och fullföljer budet på Spark Therapeutics motsvarande 4,3 miljarder USD. Läs mer.
PharmaLundensis har gjort en strategiutvärdering. Läs mer.Bolaget har även förlängt teckningstiden i den pågående nyemissionen till 10 januari 2020. Läs mer.
Utfallet i EURIS nyemission blev 1,15 Mkr. Läs mer.
European High Growth Opportunities Securitization Fund har begärt konvertering av QuickCools konvertibler. Läs mer.
Herantis Pharma har fullbordat patientrekrytering och behandling i fas II med Lymfactin mot lymfödem associerad med bröstcancer. Läs mer.
Medivir har meddelat att en futilitetsanalys har genomförts av fas II kombinationsstudien med birinapant och Keytruda i patienter med tjocktarmscancer. Läs mer.
CELLINK har tillkännagivit samarbete med Made In Space för att utveckla bioprintning i rymden. Läs mer.
NeuroVive har meddelat att förlikning har skett i tvisten med CicloMulsion. Läs mer.
XVIVO Perfusion har fått Breakthrough Device Designation beviljat från FDA för XVIVO Heart Preservation System. Läs mer.

Chalmers har köpt in masspektrometer för anslag från Lundbergs Forskningsstiftelse – stärker studier av samband mellan kost, tarmbakterier och tjocktarmscancer. Läs mer.
Förmiddagens vinnare: PharmaLundensis 14,2%, EURI 9,9%, Hansa Biopharma 8,9%, Double Bond Pharmaceuticals 8,2%, Eurocine Vaccines 7,4%
Förmiddagens förlorare: Camiano Care -10,7%, AcuCort 7,3%, BioInvent 6,1%, Brighter -6%, Papilly -5,4%, Integrum -5,3%
Index: OMXS30 -0,07%, Hälsovård -0,04%
Fler artiklar från BioStock
Prenumerera på BioStocks nyhetsbrev