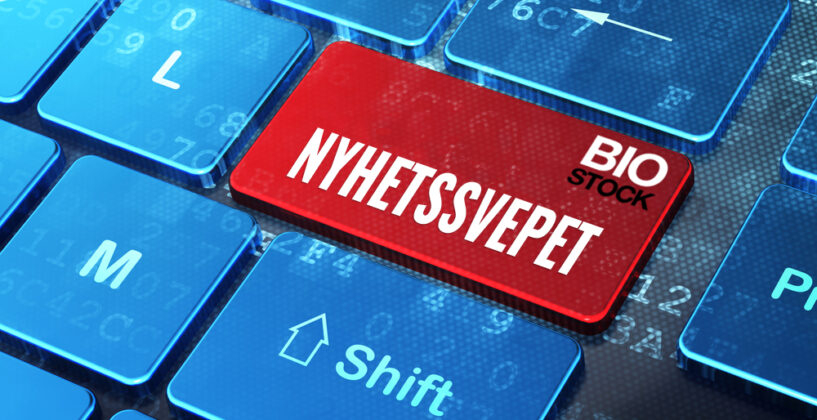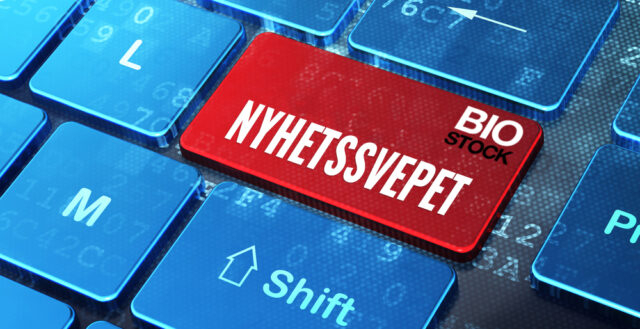 Nyhetssvepet onsdag 18 december 2019
Ett redaktionellt urval av dagens Life Science-nyheter
De senaste artiklarna från BioStock
»  En tillbakablick på 2019: Follicum redo för fas II med FOL-005
»  Lipums cellinje är färdigutvecklad och redo för nästa steg
»  Sprayinhalatorer en stor klimatbov enligt ny studie
»  Dubbla tummar upp för Follicum
»  Scandion Oncology comments on the technical delay with SOM-101
»  Xintelas dotterbolag nådde milstolpe i cancerprojekt
Läs BioStocks senaste nyhetsbrev för vecka 50 här.
Diamyd Medical: Nytt stöd för effekt av diabetesvaccin. Läs mer. Bolaget har även givit uppdateringar från fas I/II-studien ReGenerate-1 med Remygen. Läs mer.
S2Medical tecknar distributionsavtal för läkemedlet NexoBrid. Läs mer.
Senzime rekryterar USA-chef. Läs mer.
Episurf Medical uppdaterar om europeiska kliniska studier. Läs mer.
Getinge informerar om en återkallelse kopplat till förpackning av QUADROX-iD Pediatric Oxygenatorer. Läs mer. Bolaget informerar även om en frivillig återkallelse av förstärkta införingsutrustningstillbehör för Maquet Intraaorta ballongkatetrar 7 Fr., 7,5 Fr. samt 8 Fr. Läs mer.
VibroSense Dynamics meddelar teckning av optionsprogram TO2019/2022A-B för styrelse och personal. Läs mer.
Medivir har inlett en prövarinitierad klinisk fas II-studie av remetinostat hos patienter med skivepitelcancer. Läs mer.
BioInvent har ingått ett samarbets- och leveransavtal för en klinisk prövning för utvärdering av BI-1206 i kombination med KEYTRUDA i avancerade solida tumörer. Läs mer.
Vicore Pharma ger uppdatering avseende läkemedelsutvecklings-programmen VP01 (C21) och VP02 (IMiD). Läs mer.
Orphazymes arimoclomol har erhållit fast track designation i USA för behandling av inklusionskroppsmyosit. Läs mer.
Nexstim har beslutat om en riktad aktieemission på cirka 141 000 EUR till Kreos Capital V (UK). Läs mer.
Brighter offentliggör ett emissionerbjudande. Läs mer.
Bavarian Nordic avyttrar sin priority review voucher för 95 miljoner USD till en icke namngiven köpare. Läs mer.
Valberedningen har blivit utsedd inför årsstämman 2020 i Ascelia Pharma. Läs mer.
Rapporter/kommunikéer
Oncopeptides  Phase Holographic Imaging  ScandiDos
Nyheter inkomna sedan igår e.m:
WntResearch har meddelat att resultat från pågående fas II-studie kan komma att försenas. Läs mer.
FDAs rådgivande kommitté har rekommenderat AstraZenecas Lynparza till första linjenbehandling av s.k. BRCA-muterad metastatisk bukspottskörtelcancer. Läs mer.
ProstaLund har träffat ytterligare ett nytt avtal i Danmark. Läs mer.
BioArctic har tillkännagivit utökat forskningssamarbete med Eisai kring BAN2401. Läs mer.

Alligator Bioscience: Första patienten har blivit doserad med ATOR-1017 som utvecklas för behandling av spridd cancer. Läs mer.
Calliditas Therapeutics har erhållit 5 miljoner USD i milstolpsbetalning från Everest Medicines efter IND-godkännande i Kina. Läs mer.
Brighter stärker IP-portfölj med tre nya patent i Sverige och Sydkorea. Läs mer.
Lipidor har uppdaterat tidsplanen för resultatet från pågående fas III-studie som innebär en marginell förskjutning av resultatrapporteringen. Läs mer.
Asahi Kasei har nu fått in accept från aktie- och warrantinnehavare för budet på Veloxis Pharmaceuticals som motsvarar villkoren. Läs mer.
Redeye har publicerat en intervju med Idogen: "Vad innebär patentansökan för Idogen?". Läs mer.
Förmiddagens vinnare: Idogen 10%, Hansa Biopharma 9%, Micropos Medical 7%, Diamyd Medical 7%, Attana 6,4%
Förmiddagens förlorare: Medfield -9,3%, Papilly -7,7%, Phase Holographic Imaging -7,2%, Sprint Bioscience -6,7%, QuickCool -6,1%
Index: OMXS30 +0,13%, Hälsovård +0,11%
Fler artiklar från BioStock
Prenumerera på BioStocks nyhetsbrev