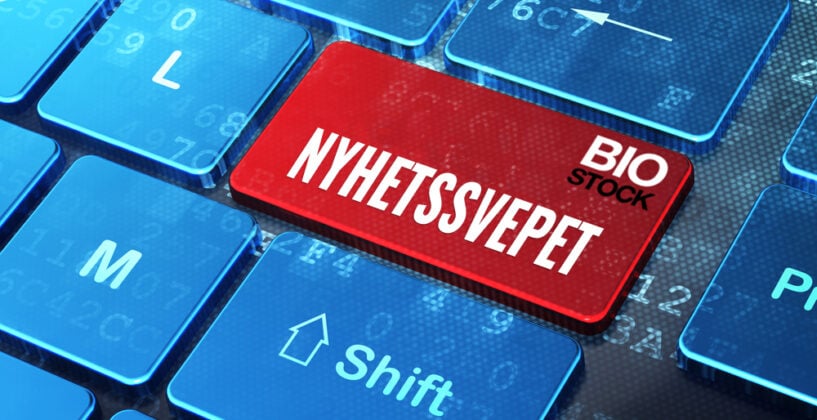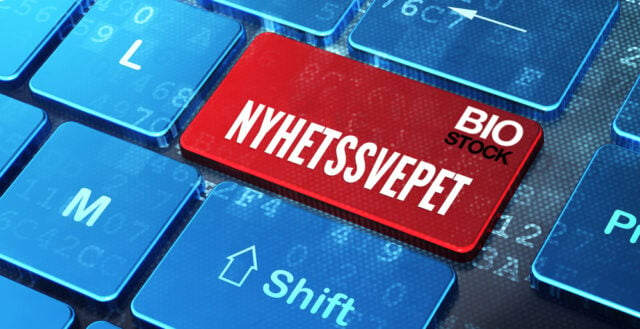 Nyhetssvepet måndag 16 december
Ett redaktionellt urval av dagens Life Science-nyheter
De senaste artiklarna från BioStock
»  Oncology Venture advancing in all priority programs
»  Idogen patentsöker ny metod för cellterapi efter robusta data
»  2cureX presenterar IndiTreat vid ESMO-kongressen
»  Immunicum kommenterar vd-bytet
»  Aptahem i internationellt samarbete kring hjärt-kärlsjukdom
»  Enzymaticas dotterbolag i nytt kosmetikaavtal
Läs BioStocks senaste nyhetsbrev för vecka 50 här.
Scandion Oncology har identifierat nya analoger med mer än tiofaldig potential inom behandling av antibiotikaresistenta bakterier. Bolaget meddelar även försening från Q4 2019 till Q1 2020 i in vivo-djurstudien på grund av tekniska problem. Detta skall inte påverka kassabehållningen eller möjligheten att finna kommersialiseringspartner under 2020 enligt bolaget. Läs mer.
Acarix har lämnat in en FDA-ansökan för CADScor-systemet inför en kommande lansering i USA.Läs mer.
ODI Pharma har godkänts för notering på Spotlight Stock Market. Läs mer.
Nanologica stärker bolagets kassa genom lån om 4 Mkr. Läs mer.
Sectra får order på IT-lösning för bildhantering av en amerikansk vårdgivare med 14 sjukhus. Läs mer.
AstraZeneca har nått en överenskommelse med Cheplapharm för rättigheterna till Seroquel och Seroquel XR i Europa och Ryssland. Läs mer.
IRRAS meddelar lansering i USA av Hummingbird-produkterna för neurointensivvård. Läs mer.
VibroSense Dynamics förstärker sin närvaro i norra Europa. Läs mer.
ChemoMetec kallar till extra bolagsstämma. Läs mer.
Även SoftOx Solutions kallar till extra bolagsstämma. Läs mer.
Redeye har publicerat en analys av IRLAB Therapeutics: "Kapitalanskaffningen – snyggt!". Läs mer.
Nyheter inkomna sedan i fredags e.m:
Karolinska Development har offentliggjort en uppdatering av nettovinsteffekten av Aprea Therapeutics aktiekursutveckling samt tilläggsprospekt avseende den riktade nyemissionen till bolagets konvertibelinnehavare. Läs mer.
ISR har upptagit lån om 20 Mkr för att påskynda utveckling av läkemedel. Läs mer.
Isofol Medical tillkännagav ett godkännande från The United States Patent and Trademark Office (USPTO) för ett patent som täcker användningen av en biomarköranalys för att identifiera cancerpatienters förmåga att svara på folatbaserade cancerbehandlingar. Läs mer.
Sjukhus och cancervårdgivare kan nu erbjuda 2cureX's IndiTreat-test till sina cancerpatienter. Läs mer.
Attana publicerade information om sitt deltagande vid Drug Discovery Innovation Programme, DDIP 2019, i Barcelona 28-29 november. Läs mer.
Episurf Medical har erhållit patentbeviljande i USA . Läs mer.
Christina Rubenhag har utsetts till tillförordnad vd och Peter Ehrenheim till arbetande styrelseordförande i Boule Diagnostics. Läs mer.

Förmiddagens vinnare: Immunicum 8,2%, DexTech Medical 7,5%, Idogen 6,3%, VibroSense Dynamics 6,2%, Intervacc 6,1%
Förmiddagens förlorare: Annexin Pharmaceutical -22%, Emotra -18,8%, Curando Nordic -18,7%, Hansa Biopharma -10,1%, PolarCool -9,5%
Index: OMXS30 +0,33%, Hälsovård +0,84%
Fler artiklar från BioStock
Prenumerera på BioStocks nyhetsbrev