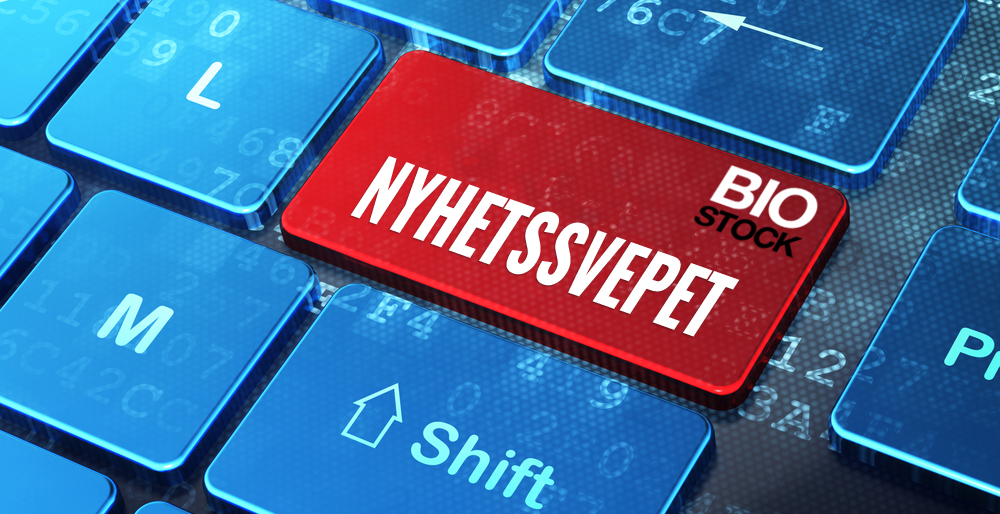 Nyhetssvepet tisdag 8 oktober
Läs BioStocks senaste nyhetsbrev för vecka 40 här
2cureX har ingått avtal med ett av de största privata cancersjukhusen i Norden. Läs mer.
Karolinska Developments portföljbolag Aprea Therapeutics har fullföljt sin börsnotering med fullt utnyttjande av garanters option att förvärva ytterligare 850 000 stamaktier, vilket har tillfört bolaget cirka 98 MUSD. Läs mer.
Novartis ögonläkemedel Beovu har godkänts av det amerikanska läkemedelsverket FDA. Läs mer.
Episurf Medical meddelar att det amerikanska patentverket USPTO har för avsikt att bevilja ytterligare en av bolagets patentansökningar med inriktning på ledimplantatet Episealer Femoral Twin och dess design. Läs mer.
Sectra har fått en order på en IT-lösning för att hantera radiologibilder från Marshfield Clinic Health System i USA. Läs mer.
Carbiotix tecknar samarbetsavtal med konsumentbolaget Food Marble för övervakning av matsmältningshälsa. Läs mer.
Corpura Fondkommission är finansiell rådgivare i samband med Toleranzias företrädesemission. Läs mer.
Bavarian Nordic startar en klinisk fas I-studie med ett vaccin mot hästencefalitvirus. Läs mer.
Scandinavian Real Heart meddelar att man genomfört de första av flera tester som visar att Realheart TAH är skonsammare mot blodet än en redan kommersialiserad pump. Läs mer.
MedicaNatumin har rekryterat Kjell Lundgren som ny Export Director. Läs mer.
Akademiska sjukhuset medverkar i en stor internationell studie där man samlar in data om patienter första året efter insjuknande i afasi till följd av stroke. Läs mer.
Scandinavian Biopharma har blivit nominerade till Biotech company of the year vid European Lifestars Awards 2019. Läs mer.


Nyheter inkomna i går eftermiddag:
CLS har publicerat resultat av posters som presenterades på Annual Brain Metastases Research and Emerging Therapy Conference i Marseille och på AdMeTech Global Summit on Precision Diagnosis and Treatment of Prostate Cancer i Boston. Läs mer.
Redsense Medical har fått 500 000 kronor i bidrag från Vinnova för att utveckla en AI-styrd programvara för sårövervakning. Läs mer.
Elos Medtech har beviljats patent på ett dentalt borrsystem hos såväl det amerikanska patentverket USPTO som europeiska EPO. Läs mer.
SelectImmune Pharma har presenterat preliminära resultat av en ny preklinisk studie som visar att bolagets immunterapi mot urinvägsinfektion fungerar lika bra som antibiotika i en djurmodell. Läs mer.
Brighters vd Henrik Norström kommer att presentera produkten Actiste för behandling av insulinberoende diabetes vid GITEX Tech Week i Dubai. Läs mer.
Spotlight Stock Market har meddelat att handeln i SensoDetects teckningsoption startar den 10 oktober. Läs mer.
QuickCool har meddelat att förhandlingarna om det förslag som ska säkra bolagets långsiktiga finansiering förväntas avslutas under oktober månad. Läs mer. Bolaget har även publicerat ett månadsbrev. Läs mer.
Karessa Pharma har kallat till en extra bolagsstämma. Läs mer.
Även Promore Pharma har kallat till en extra bolagsstämma. Läs mer.
SyntheticMR har publicerat ett flaggningsmeddelande. Läs mer.
Novo Nordisk har rapporterat om sitt aktieåterköpsprogram Läs mer. Det har även Össur (läs mer) och Novozymes (läs mer).
AtrimusRx har tecknat ett distributionsavtal för licensläkemedelt Regitine phentolamine. Läs mer.
Amy Arthur har utsetts till ny sverigechef för Boehringer Ingelheim. Läs mer.
Vinnare i lunchhandeln:
QuickCool +21,94% Lumito +12,29% Immunicum +8,98% Active Biotech +7,25% Real Heart +6,04%  2cureX +5,36%
Förlorare i lunchhandeln:
Cline Scientific -14,29% SensoDetect -11,89% Pharmacolog i Uppsala -6,72% Acarix -6,67% Nicoccino -6,20% Kancera -5,62%
Index:
OMXS30 -0,27% Hälsovård -0,02%
Prenumerera på BioStocks nyhetsbrev