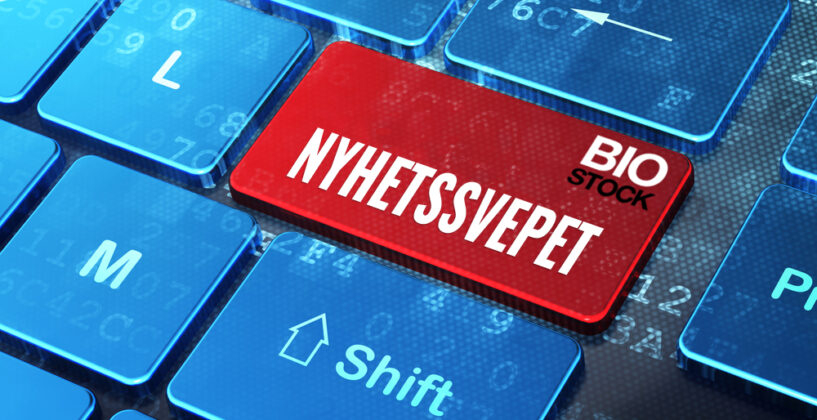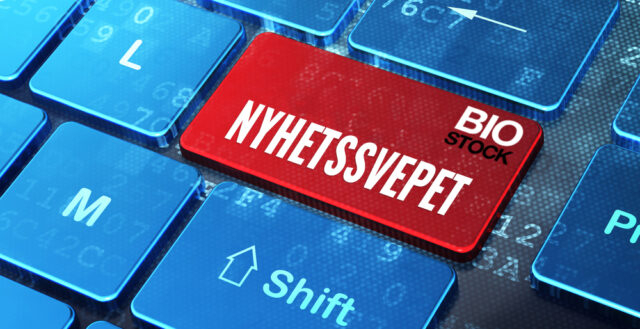 Nyhetssvepet måndag 20 maj
Ett redaktionellt urval av dagens Life Science-nyheter
De senaste artiklarna från BioStock
» Genovis utökar säljkanalerna i Asien
» Fler USA-kliniker ansluter sig till Immunovias globala cancerstudie
» Saniona nära mållinjen i PWS
» Fullrekryterad studie ger vind i seglet för Enzymatica 
» Söndagsintervju: Fondförvaltarens heta case och konsten att investera i healthcare

Läs BioStocks senaste nyhetsbrev för vecka 20 här
Imorgon 21 maj arrangeras BioStock Live investerarträff i Stockholm. Under det direktsända eventet bjuds det på bolagspresentationer från Lumito, BBS Bioactive Bone Substitutes och Cereno Scientific. Mer info och anmälan här.
Cereno Scientific har fått sitt abstract "A New Treatment for Thrombosis Prevention?" accepterat vid the International Society on Thrombosis and Hemostasis (ISTH) 2019 den 7 juli i Melbourne, Australien. Resultaten kommer att presenteras av medgrundaren Pia Larsson, PhD, som varit med i forskningen bakom läkemedelskandidaten CS1. Läs mer. Bolaget handlas idag exklusive teckningsrätt i nyemission med företrädesrätt för aktieägarna. Läs mer.
PolarCool har inlett ett samarbete med Nisus Medical avseende marknadsetablering i Storbritannien och Irland, vilket blir PolarCools första satsning på en större marknad. Inträdet i Storbritannien inleds med fokus på rugby och avsikten är att i förlängningen bredda närvaron till övriga idrottsgrenar. Läs mer.
AstraZeneca rapporterar positiva resultat med Symbicort i mild astma. Läs mer.
Den extra bolagsstämma som är planerad för Double Bond Pharmaceutical senareläggs. Detta innebär att den tidigare aviserade stämman, den 27 maj, är inställd och en kallelse med nytt datum kommer att offentliggöras inom kort. Läs mer.
Elektas bokslutskommuniké för 2018/19 publiceras den 29 maj. Läs mer.
Penser Access publicerar en analys av Corline Biomedical. Läs mer.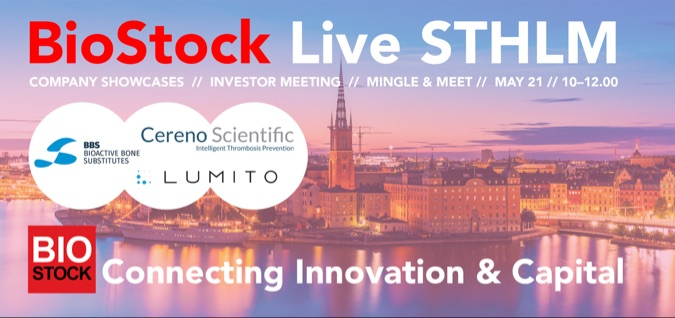 Rapporter/kommunikéer:
Acarix  CLS  European Institute of Science  ProstaLund  S2Medical
Kallelser till årsstämmor:
Asarina Pharma
Nyheter inkomna efter fredag e.m.:
FDA och Infant Bacterial Therapeutics har kommit överens rörande fas III-studiens utformning. Läs mer.
IRLAB kommer att genomföra en aktiesplit. Läs mer.
Som en del i BrainCools avtal med L1 Capital har BrainCool delat ut vederlagsfria optioner till bolagets aktieägare för att motverka utspädning. Den 21 maj – 4 juni kan innehavare av optionerna (TO1) växla dessa till aktier. Läs mer.
Igor Lokot, vd på Double Bond Pharmaceutical, kommer att besvara frågor från investerare i en direktsänd frågestund den 28 maj. Läs mer.
Orexo publicerade information om bolagspresentationer under maj och juni. Läs mer.
Medtechbolaget Miris vd Camilla Myhre Sandberg medverkar i "Worldwide Business with Kathy Ireland". Intervjun sin helhet kommer att sändas på Bloomberg International den 18 och 19 maj. Läs mer.
Malin Parkler, vd för Pfizer i Sverige, har valts till styrelseordförande för branschorganisationen för de forskande läkemedelsföretagen i Sverige, LIF. Läs mer.
Vinnare i lunchhandeln: PharmaLundensis +8,14%, 2cureX +7,72%, Invent Medic +6,87%, CLS +5,26%, Enzymatica +4,71%, Infant Bacterial Therapeutics +4,17%
Förlorare i lunchhandeln:
Spago -8,28%, Hemcheck Sweden -7,86%, Senzime -5,54%, Inhalation Sciences -4,87%, Micropos Medical -3,85%, Toleranzia -3,50%
Index:
OMXS30 -0,62% , Hälsovård -0,59%
Fler artiklar från BioStock
» NeuroVive når viktig milstolpe inom TBI i USA
» Kinesiska investerare satsar på skandinavisk life science
» Analysuppdatering: Cereno Scientific
» Bayers nya högkvarter stärker svensk life science
» Urstark rapport från Genovis
» 2018 rekordår för kapitalresningar enligt ny rapport

[et_bloom_inline optin_id="optin_4″]
Prenumerera på BioStocks nyhetsbrev