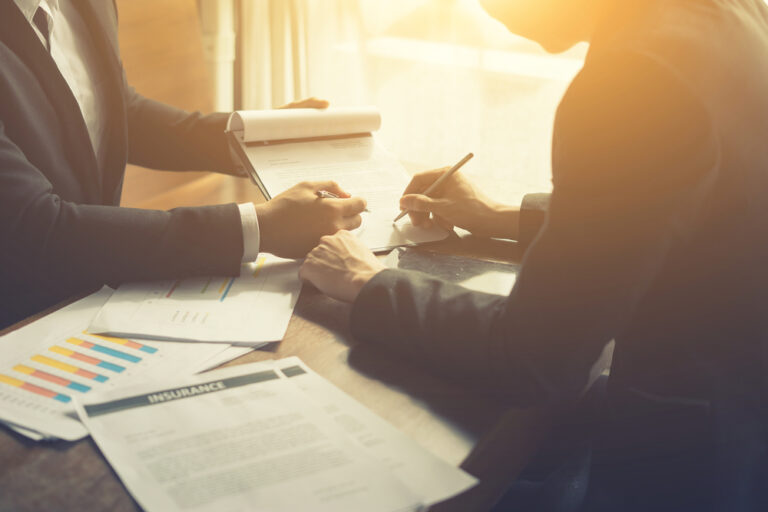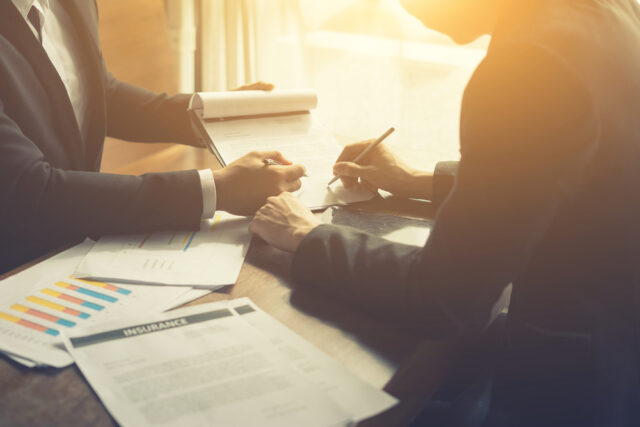 Largest biotech and pharma deals – 2018 recap & 2019 outlook
The year 2019 started out strong with the announcement of Bristol Myers Squibb acquisition of Celgene for about $74 billion. In size, this deal undoubtedly trumps the deals struck in 2018 but, importantly, signals that oncology deals are still among the highest valued deals in the biotech and pharma industry. However, before delving further into the possible deal trends that could be expected in 2019, let us look back and honor some of the major acquisition and partnership deals that companies landed in 2018.
Article contributed by MSC
Among the biggest acquisition deals that were identified in 2018 (see Table 1), Takeda's acquisition of Shire had the highest deal value and represents one of the largest overseas acquisition deals in Japanese history. This massive deal of $56 billion for a large asset portfolio, including rare disease therapeutics, indicates that the undersaturated rare disease therapeutics market is of high value due to regulatory incentives and high drug prices. Supporting this conclusion is the huge acquisition deal of $11.6 billion where Sanofi acquired Bioverativ to expand its portfolio of rare blood disorders. Apart from therapeutics, other high valued acquisition deals during the year involved consumer healthcare products, cell and/or gene therapies and assets in oncology.
In terms of partnership deals, the total value of the largest deals identified were in the billion range (see Table 2), where a strategic global collaboration deal between Eisai and MSD for marketed oncology product, Lenvima, yielded a potential total deal value of $5.76 billion, with a hefty upfront payment of $300 million. This was, however, not the deal with the highest upfront payment, as this title was snatched by Nektar Therapeutics. In February 2018, the company landed a partnership deal with Bristol Myers Squibb for an upfront payment of $1.85 billion for NKTR-214, a phase 3 CD122-biased agonist. The runner up for largest upfront payment was Swedish Orphan Biovitrum AB (SOBI), that acquired the U.S. rights to Synagis for an upfront payment of $1.5 billion from AstraZeneca. Other high valued partnership deals involved RNA interference therapeutics, cell and/or gene therapies and candidates/targets developed in oncology, neurodegenerative diseases, cardiovascular and metabolic diseases.
»In 2019, an increase in high value deals and a huge spotlight on the growing Chinese market is not that farfetched«
At this point it is mere speculation, but there are certainly signals indicating upcoming high deal activity within biotech and pharma during 2019. Triggers in favor include the promise that U.S. President Trump's tax reform will allow many bigger U.S. headquartered pharma companies to free up cash and spend it on deal-making, the completion of major announced deals and other driving factors that push companies to replenish their pipeline and fence off competition. Looking further afar, China is likely to become a key player within the pharma industry during 2019 with its reformed priority review and approval process allowing domestic drug developers to compete with well-established multination counterparts, says data and analytics company GlobalData.
Focusing only within therapeutics, five areas stand out as particularly active in deal making; oncology, rare diseases, neurology/neurodegenerative, metabolic and cardiovascular diseases. Looking back at the trends of 2018 and previous years, we could in 2019 expect to see more deals in the rare disease space as there has been a steady increase in approvals of therapeutics in this area.
Oncology looks to be an continuous hot field where a high number of oncology deals could turn into reality since a lot of companies are still looking for the next oncology blockbuster or assets that could complement, or be combined with, their star oncology assets. Based on the recent approvals of CAR-T therapies, we could expect to see an increase of deals in cell and/or gene therapies oncology as well. This is also true for other therapeutic areas, especially those concerning rare genetic diseases or regenerative medicine.
A final area that should not be underestimated is autoimmune and inflammatory diseases. Following the arrival of next generation therapies and patent expiration of major products, it is certainly expected that deals in this space could increase in the prominent future.
Top 10 M&A deals in 2018 in pharma and biotech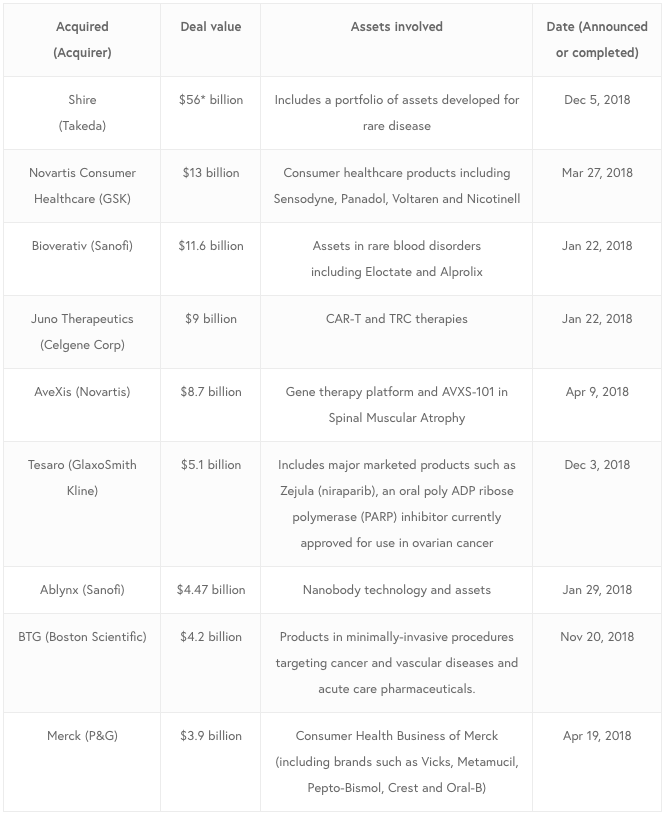 Top 10 partnership deals 2018 in pharma and biotech

This article was produced by BioStock's partner Monocl Strategy & Communication. Learn more about MSC here
Prenumerera på BioStocks nyhetsbrev